The Spa At Ashford Castle Wins Two Awards
Published on Jul 11 2017 11:42 AM in Hotel tagged: Ashford Castle / Irish Tatler Spa Awards / Niall Rochford / The Spa at Ashford Castle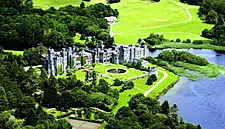 The Spa at Ashford Castle took home the trophies for 'Best in Service' and 'Connaught Spa of the Year' at the 2017 Irish Tatler Spa Awards, which took place at Dublin's Thomas Prior Hall last Thursday (6 July).
As noted by the Connaught Telegraph, the facility has received a lot of global recognition since it opened to the public in 2015, winning the title of "Ireland's Top Hotel Spa" at last year's World Spa Awards.
Commenting on last week's achievement, Ashford Castle general manager, Niall Rochford, said: "Our ethos has always been to deliver a level of service that is over and above expectations, so we are delighted to have been named 'Best in Service'. To have been recognised as the 'Connaught Spa of the Year' is another great honour for us and we will continue to offer our guests one of the finest luxury experiences in the world."