Zanzibar Bought By Locke Aparthotel Group With Plans For €45m Investment
Published on Jan 9 2017 11:59 AM in Hotel tagged: Featured Post / Zanzibar / Locke Living / Eric Jafari / SACO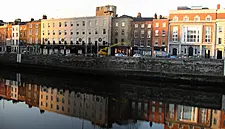 After attracting strong interest from investors, Zanzibar hotel on Dublin's Ormond Quay has been acquired for €10 million by Locke Aparthotels group, who plan to invest €45 million for the development of an additional 100 bedrooms on the property.
Locke, which opened its first hotel on Leman Street in London last October, offers 'design-led aparthotels for those who challenge the status quo' at a cost of £90 per night for a one-bedroom suite. It also plans to open Eden Locke in Edinburgh in early 2017, reports The Irish Times.
Eric Jafari the managing director of SACO property group, operators of Locke, said: "We were looking for an envelope large enough to accommodate 100-plus rooms in a market that is a mix of both leisure and corporate. It is within walking distance of Temple Bar and within walking distance of Silicon Docks. We like the potential of this specific area... and see it making a mark in lifting the area.
"We want to create loads of co-working space so people can come and hang out there, grab a coffee, grab a drink and spends a few hours working on their laptops. We're looking to be a local hub for the local community. We'll probably partner with a local food and beverage provider that understands the locality so we can create the type of area where people will come and spend five or six hours."
Although the property has planning permission for an 89-bedroom hotel, Jafari commented that ideally the group would like 500 bedrooms but that "we're trying to figure out how we're going to navigate through some of those recent [tax] changes […] We're bullish specifically on the Dublin hotel market. There's an undersupply of product and more specifically the type of product we're looking to deliver doesn't exist".