Report Finds 55% Of The Population Visit Irish Pubs Abroad
Published on May 26 2017 10:52 AM in Drinks tagged: LVA / DIGI / Drinks Industry Group of Ireland / Licensed Vintners Association / Donall O'Keeffe / Amárach Research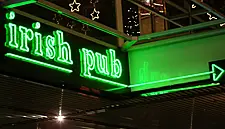 A report published this week has revealed that 55% of Irish natives visit Irish pubs while traveling abroad, while 63% of Irish residents celebrate special occasions such as birthdays, communions and christenings in a pub, restaurant or hotel.
According to businessworld.ie, the research was conducted by Amárach Research among 1,000 people on behalf of the Drinks Industry Group of Ireland (DIGI) to track sentiments towards Ireland's drinks and hospitality sector.
Approximately 204,000 people are currently working in the hospitality sector in Ireland, accounting for 10% of the total Irish workforce, while 27% of the population are either employed by a pub, hotel, restaurant or off-licence at present or have been at some point in the past.
The report also revealed that 47% of Irish people associate their local pub with socialising, 48% with a friendly atmosphere and 19% with tradition. Furthermore, it was found that 32% of Irish couples met at a pub, hotel or nightclub.
Secretary of DIGI and Chief Executive of the Licensed Vinters Association Donall O'Keeffe stated that "It is an industry which is central to every city, town and village of Ireland and at its heart, this is a rural industry. Considering its social, cultural and economic contribution to Ireland, we need to continue to support the industry to ensure we maintain and create jobs across the country."
DIGI believes that the government should reduce excise tax to protect the drinks industry in Budget 18, with O'Keeffe saying the group is "concerned that the high levels of excise tax on alcohol will continue to put extreme pressure on Irish publicans, hoteliers, restaurants and the wider hospitality industry in the coming years, risking job creation and investment in the domestic economy."