Around the World in 30 Steaks: The Best From London To Las Vegas
Published on May 24 2017 9:28 AM in Features tagged: London / steak / Danny Meyer / Albert Roux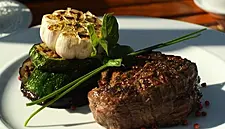 Restaurant food doesn't get much simpler than a properly cooked chunk of beef—and rarely delivers so much pleasure. The smoky sweetness of the char, with its hint of crispness. The soft flesh relea...
Restaurant food doesn't get much simpler than a properly cooked chunk of beef—and rarely delivers so much pleasure.
The smoky sweetness of the char, with its hint of crispness. The soft flesh releasing the deep and earthy flavours of the meat. It's the stuff of  meaty dreams and enjoyed worldwide.
Yet it's easy to ruin a steak. No amount of sauce or mustard can fix bad beef. Overcooked meat will be dry and chewy. Walk into a random steakhouse when traveling and you may suffer more disappointment than joy.
Help is at hand. We asked leading chefs and restaurateurs for their picks around the world, from the classics of New York through the quality meats of South America through to the upstart steakhouses of London and Tokyo.
US
Bar Masa, New York:: "I love the steak with garlic and soy," says chef Jean-Georges Vongerichten, whose restaurants include Jean-Georges and Prime steakhouses in Las Vegas. "It's wagyu beef wood-grilled, brushed with garlic and soy, cooked rare, sliced and served with white rice on the side."
Beatrice Inn, New York: This chophouse (and former speakeasy) in the West Village is the pick of chef Chris Cosentino of Cockscomb in San Francisco. "The best steak I ever had, hands down, is at the Beatrice Inn. It was a 137-day whisky-aged huge tomahawk. (Chef) Angie Mar learned the technique in France and brought it to the U.S. That steak blew my head off. It was insane."
Keens, New York: "It's my favorite steakhouse," says chef Daniel Boulud, whose New York restaurants include Daniel. "It's the oldest in New York city, since 1885, and the most authentic and classic. Plus they have the most amazing collection of Scotch."
"There's so much history there," says Will Guidara, co-owner of Eleven Madison Park and NoMad, in New York. "It feels as New York as any restaurant in the city. Go for the mutton chop and stay for the prime rib hash."
Shake Shack CEO Randy Garutti is a fan. "I always love Keens: Mutton chop and a few steaks," he says.
Butcher-and-chef Richard H. Turner of Hawksmoor in London agrees: "I am not a fan of USDA (American beef) but I like Keens."
Minetta Tavern, New York: Keith McNally's Greenwich Village brasserie is a winner for Garutti. "My favourite place for steak in New York City isn't necessarily a steakhouse," he says. "It's Minetta Tavern." He goes for the dry-aged cote de boeuf with bone marrow and recommends a burger as mid-course.
"I would put Minetta Tavern up there for sure," says chef John Cadieux of Goodman steakhouse in London, "Great steak and great atmosphere."
Palm, New York: "The idea of a steakhouse has been dandified by chefs who have complicated things," Nobu co-owner Drew Nieporent says. "Customers like a steakhouse that is very straightforward. The Palm has always been my favourite. It's very consistent, with excellent hospitality."
Peter Luger, New York: "My favorite steakhouse is a New York favourite: Peter Luger," Vongerichten says. "The T-bone steak is aged perfectly in house, cooked rare, sliced then butter on top, under the broiler and finished medium-rare. Succulent and fantastic beef flavor."
Food writer Tom Parker Bowles keeps going back:  "I love it just for those huge slabs of old school corn-fed beef. Plus crisp bacon as a snack and slightly grumpy waiters. "
Chef Albert Roux of Le Gavroche in London says:  "The whole atmosphere was wonderful and the cuts of meat superb."
Sparks, New York: "Sparks is a nostalgic and traditional favourite," says Danny Meyer of Union Square Hospitality Group. "Amazing wine list. Standard order: crab and shrimp cocktail, prime sirloin steak, hashed browns, spinach, Basset's double chocolate chip ice cream for dessert! I go there every time we close a deal with a landlord for a new restaurant, since I was taken there in 1985 when I bought the lease for the space that would become Union Square Cafe."
Alfred's SF, San Francisco: Dry-aged steaks are cooked over a mesquite grill at Alfred's, which traces its history to 1928 and is now owned by chef Daniel Patterson. "Daniel is bringing in great varieties of different styles of beef and different ages. with steamed spinach, baked potatoes—just really beautiful classic stuff," says Cockscomb's Cosentino. "That's what makes Alfred's so cool."
Cockscomb, San Francisco: Chef Cosentino serves up a meaty menu that features pin-bone steak with a marrow dip. "It's a good town and he's the man you want," says St. John's Trevor Gulliver. "He knows that provenance and good butchery are a must and he's as happy as the proverbial when cooking."
Canlis, Seattle: This fine-dining restaurant with views over Seattle is another of Garutti's picks. "It's not a steakhouse but it's the best restaurant overall and steak in Seattle," he says.
CUT, Las Vegas" Wolfgang Puck's steakhouse at the Venetian has great meat, chef Roux says. "I didn't go for the wagyu—I'm a purist when it comes to beef," he says. "I went for grain-fed USDA, typical American. People knock it but I thought it was bloody good. The steak of choice for me would be a big slice of rump char-grilled."
John Thomas Steakhouse, Ithaca, New York: "This is a random one for you if you're ever in Ithaca, New York, where I went to school," Garutti says. This restaurant near Cornell is known for its dry-aged steaks. The specialty is a 40 ounce Porterhouse for two, at $98.
Pappas Bros., Houston: This privately owned chain first opened in 1976, founded by a family of immigrants from Greece. The steaks are dry-aged in house.  "Excellent meat and an extraordinary wine list," says chef Joan Roca, co-owner of El Celler de Can Roca, in Spain, which has twice won the title of World's Best Restaurant.
Prime, Las Vegas: Vongerichten's Prime restaurant in the Bellagio Hotel is known for its classic dining room and its great meat. "Jean-Georges has elevated every side dish and salads, too," Nieporent says. "It's the quintessential Las Vegas restaurant."
Prime 112, Miami Beach: This restaurant in Browns Hotel traces its history to 2004 and bills itself as the first modern steakhouse in the U.S. "It's an endless great scene, with massive portions and a solid steak," Garutti says.
Parker Bowles says it used to be one of the only decent restaurants in South Beach. There are "many more now, but it still holds nostalgic appeal," he says.
Spago, Hawaii: Wolfgang Puck's restaurant in Maui is the pick of chef Shane Osborn of Arcane, in Hong Kong. "The best steak I've had in recent years was there," he says. "The bone-in ribeye was delicious."
Toturaku, Los Angeles:This is a secret restaurant, without a website or even a sign to identify it. You have to be known to the chef to get a table. Wolfgang Puck is a fan. "My chef at Spago, Tetsu Yahagi, told me about the restaurant," Puck says. "What I love about it is that it is not a traditional steakhouse. Chef Kaz Oyama serves an eight-to-10-course menu of beef prepared in various ways, including yakiniku style where you grill the meat yourself at your table. It's also BYOB and is the perfect place to bring your favourite bottle of red wine; just be sure to save a glass for the chef."
UK
Hawksmoor, London: Hawksmoor first opened in London in 2006 and is now preparing to open in New York. "I'm a Hawksmoor man," says Shake Shack's Garutti. "Porterhouse with beef-dripping fries and a Caesar salad."
Chef Michel Roux Jr of Le Gavroche in London is also a fan. "I had an amazing steak," he says. "I was very, very impressed. It's the quality of all the different cuts, from high-end fillet, which I am not a big fan of, to the tomahawk for two or three people. "
Trevor Gulliver, co-owner of St. John restaurant in London, credits chef  Turner for Hawksmoor's quality: "If he's at the heat I'm there. He knows his animals as a butcher and the flames as a chef."
Argentina
Don Julio, Buenos Aires: This unfussy steakhouse is one of the best in Latin America. "Don Julio is by far my favorite steakhouse," says Peruvian chef Gaston Acurio, of Astrid & Gaston in Lima. "They use grass-fed beef from the pampas of Argentina, for sustainable quality and flavor."
"It's a traditional family restaurant with extraordinary meats, especially entraña (skirt) cuts, says chef Roca.
France
Bistrot Paul Bert, Paris: This bistro is among the best-known in Paris, with a reputation for simple cooking, without fuss. "The steak frites are definitive," says Nobu's Nieporent.
Italy
Dario Cecchini, Panzano: "This is a great place," chef Puck says. "The chef has an incredible selection of Italian beef - my favorite is the Chianina - and a fantastic wine selection from Tuscany."
Japan
Shima, Tokyo: This Nihonbashi restaurant is hard to find. Cronut king Dominique Ansel discovered it on a visit to his bakery in Tokyo. "The best bite I had in Tokyo was a steak sandwich from Shima," he says. "The chef perfectly sears the most beautifully marbled wagyu from Kyoto, and if you have any left over, he makes a sandwich for you to take home."
Peru
Osso, Lima: This butcher's shop and restaurant is a favorite of chef Roca. Owner "Renzo Garibaldi has converted his restaurant into a cult location for meat," he says.
Spain:
Bodega El Capricho, Jiménez de Jamuz, León: "The restaurant came out on top in a film about the best steaks in the world," says Hawksmoor's Turner. "They do steak tasting menus that are stunning. (Owner) Jose Gordon rears his own cattle and hangs his own meat. He's a butcher, farmer and chef. Everything is done on site. It's very, very good."
Casa Julian, Tolosa: Tucked away in a mountain village in the Basque region, Casa Julian is owned by a father-and-son team and is well worth the trip, says chef Elena Arzak of Arzak in San Sebastian. "There is only one main course option: txuleta (chops), fire-grilled rare," she says. "Big handfuls of sea salt are spread across the meat as it crackles and crisps above the flames. It's turned once, sprinkled again with salt, and then served still sizzling."
Laia, Hondarribia: "The meat is crispy, dark, and umami-rich on the outside, while the middle retains the fresh and flavorful bite of pure grass-fed beef," in this restaurant close to the French border, Arzak says. "Next to the reception is the star of the show: a great glass case with enormous loins of beef under spotlights. There are cuts from cows and oxen, some young and bright, while others have the dark wisdom that can only be obtained by slow and steady dry-aging."
Loma Alto, Barcelona: This steak restaurant specializes in older cattle from Iberian breeds. "The chef, Carles Tejedor, manages this new restaurant," says chef Roca. "It has a very good location, and a casual and elegant atmosphere."
Trinkete Borda, Irún: This Basque restaurant sits in countryside near the coast, close by the French border. "They raise their own cows from 100 percent wagyu stock," Arzak says. "Perfectly marbled steaks—buttery in flavor and in texture—are expertly grilled in this multi-generational farmhouse restaurant."
Singapore
Burnt Ends: This modern Australian barbecue restaurant is the pick of Australian chef Osborn. "Anything (chef-owner) Dave Pynt cooks in his bespoke built barbecue is awesome, especially the Mayura wagyu from Oz."
Uruguay
El Palenque, Montevideo: This restaurant is housed in the Mercado del Puerto. The old port market building is filled with restaurants and the smell of roasting beef. El Palenque has been open for more than 50 years and has a good wine cellar. "There's an endless array of grilled meats perfectly cooked over low embers," Nobu's Nieporent says.
Article by Richard Vines, chief food critic at Bloomberg