Food On The Move: Delivery Services Get a Tech-Powered Upgrade
Published on Aug 5 2015 11:16 AM in Features tagged: Just Eat / Deliveroo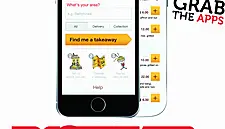 Restaurants have delivered food to people's homes for decades, but now the sector is being disrupted by a raft of technology startups removing pain-points for consumers and vendors. Investors believe...
Restaurants have delivered food to people's homes for decades, but now the sector is being disrupted by a raft of technology startups removing pain-points for consumers and vendors.
Investors believe the category will spawn a number of billion dollar companies in Europe,  described as 'unicorns'.
"It's driven by a convergence of trends: convenience, increased penetration of smartphones, recession-learned frugal habits (as it's often cheaper than eating out), the home becoming more of a center for entertainment (again driven by the recession) and increased availability," explains Euromonitor's Head of Strategic, Economic and Consumer Insight Sarah Boumphrey, who adds that apps have spurred growth in the sector.
First wave
One of the early pioneers was Danish startup Just Eat, launched in 2001 and which debuted on the London Stock Exchange 16 months ago. The web-based service offers menu aggregation and a secure online ordering and payment system to restaurants so they don't have to invest in their own web systems. The model is echoed by other companies such as Dutch-founded TakeAway.com and Berlin-based Delivery Hero.
"These companies are still growing quickly because they have solved big headaches experienced by independent restaurants," explains Alessandro Casartelli, Vice President at tech-focused investment bank GP Bullhound.
Even so, once the orders are processed through these companies, however, it's back to the old model: the restaurant still needs to hire someone to physically take the food to the customer.
A new wave of companies are taking this pain point away, integrating vertically into operations. "They are finally able to manage the logistics more efficiently, whereas before it was just ordering," Casartelli says.
Trillion dollar market
"Food is a trillion dollar market that's really hard for tech companies to penetrate, but software can solve some of the logistical nightmares associated with handling products with a shelf life and getting them to the right people quickly," he adds.
Deliveroo, which last month raised $70 million in a funding round led by Index Ventures and Greenoaks Capital, lets customers order from high-end restaurants that don't have their own delivery service, for a delivery fee of £2.50. Restaurants that use Deliveroo can see sales rise as much as 30 per cent, according to Index Ventures.
The critical innovation is on Deliveroo's mapping capabilities which, much like Uber's, allow the company to plan and predict how to pick up and drop off hot food in the most efficient way.
Having already cracked this challenge, taxi app services are also dabbling with delivery. GetTaxi promises to deliver bottles of champagne within 10 minutes to Londoners for £50. Meanwhile Uber is trialing a food-delivery service - UberEats - in Barcelona, Los Angeles, Chicago and New York.
Recipe boxes
An alternative business model is offered by companies like Hello Fresh and Gousto in Europe and Blue Apron and Plated in North America. These sit somewhere between the incumbent grocery delivery services like the UK's Ocado and Tesco Direct and the aforementioned takeaway delivery players.
They deliver boxes with precise amounts of fresh ingredients and recipes showing customers how to cook gourmet meals at home.
"These recipe box companies enable people who might not be into cooking normally to create relatively sophisticated meals with comparative ease and without having to spend lots of money on ingredients they might not use again. It's a way of enabling consumers to dip their toe in the water," explains Boumphrey.
Unlike the takeaway delivery services, Hello Fresh controls the customer experience from end to end.
"We are an operations and supply chain company. We procure a massive amount of ingredients, control the supply chain, the boxes, the delivery... we need to be very good at it as we deal with perishable goods," explains founder and CEO Dominik Richter.
Richter says the company has grown around 400 per cent over the last three years and towards the end of Q1 was delivering four million meals per month - to customers in the United Kingdom, Netherlands, Austria, Australia, Germany Belgium and the United States.
"The interesting thing is these companies are three, four, five years old as opposed to the takeaway marketplaces that are 10 years old. The new ones are raising capital much faster and growing much faster," says Casartelli. "The mature players have done a lot of education in the sector."
Casartelli predicts there will only be room for one or two big players in each market, so there'll be a lot of consolidation down the line. "It's a competitive market: customers will have one or two apps on their phone, so power comes in having as much supply and demand as possible."
Report by Bloomberg, Edited by Hospitality Ireland