Market Report: Industry on Fire
Published on Nov 30 2016 4:58 PM in Features tagged: Dublin / Elavon / Fire restaurant / Eric Horgan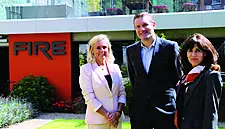 Sharon Hollywood, Director of Operations with Fire restaurant, and Eric Horgan, Country Manager for Elavon, talk to Emily Hourican about the changing face of card payments and customer expectations wi...
Sharon Hollywood, Director of Operations with Fire restaurant, and Eric Horgan, Country Manager for Elavon, talk to Emily Hourican about the changing face of card payments and customer expectations within the hospitality industry.
*************************************************************************************************************************************************
For anyone within the hospitality industry, Sharon Hollywood is an instantly recognisable name, as much a part of the success of Fire restaurant as the prime location and appealing interior and exterior space. She has been with the company since 2005, promoted to Director of Operations in 2008. In that time, she has naturally seen many changes.
"We built the new extension in 2013, comprising a new lounge and 60-seater dining experience. That, for us, has brought a lot of new business. We can use it for conference and meetings with break-out rooms. Although we can seat 200 in the main dining room, a lot of people were looking for smaller rooms, from 15-20 people up to 60 people, for private events. So we found the niche was there for us to be able to create something new. We found the new extension energised the property. You reinvent yourself every few years, because you have to. Things move on."
So what other changes has she introduced to Fire?
"We're always trying to add new, different things. For example, we're big into Irish food produce. We like to support the Irish market. And we enjoy listening to our customers and feeding that back into the business, that's very important."
As with anything, the proof of course is in the pudding, or, in this case, in the scaling up of staff requirements.
"At this stage, I employ 96 people," says Sharon. "We started with 25. Fire is nothing without the people behind it. We all have to be passionate about what we do. At Fire, it's about the overall experience – it's not just about the food, or about the drink, or the décor, it's the overall experience."
What emerging trends has she seen recently?
"There is certainly a trend for lengthier dining periods; for making a night of it with a pre-dinner drink, then dinner, and perhaps a couple of drinks afterwards. Since we built the lounge downstairs, we find more that people will come in half an hour before their table is ready, then they'll come up to dine, and maybe go back down for drinks afterwards. The majority of our guests will stay for three hours. We also see a lot more people dining out, and they are booking farther in advance. They're planning ahead more – for example, by the end of August, we already had 1800 people booked for Christmas."
In terms of customer breakdown, at Fire 80% of visitors are Irish, although the balance naturally changes during the summer months, and a minimum of 25% of visitors return, often encouraged by Fire's loyalty programme. Part of keeping turnover smooth, and the customer experience enjoyable, is the processing of card payments. "It is important that we can process card payments very quickly," Sharon explains.
"On a Friday or Saturday night, we would have seven card machines in circulation. Our customers don't want to have to wait on a connection, they want to pay and move on. So it is important that the equipment is up to date, and works. Elavon make life easier so we can process the card very quickly at the table. Thanks to Elavon, we can take all the major cards and we don't have any issues. At this stage, 80% of all our transactions are on cards.
"Another service from Elavon is the ability to offer international cardholders the choice to pay in their home currency. Fire offer this valued added service Dynamic Currency Conversion (DCC), an instantaneous conversion rate, mainly used for Sterling and dollars. "Elavon have trained all our staff to offer this service," says Sharon.
Eric Horgan, Elavon Ireland Country Manager, adds, "DCC is a good service for the hospitality sector to offer their customers, as it is a revenue stream for them and it enhances the payment experience. We provide training for our customers on how to offer the DCC service".
'It is important for the Irish hospitality sector to accept all forms of card payments given changing domestic consumer payment trends and our large tourist numbers. The industry has unique payment needs, for example pay at table and tipping',' says Eric.
It is, says Sharon, "simple, seamless and discreet. The customer is asked whether they want to leave a tip; the answer is yes or no, and they proceed from there." Eric says, 'A key element of Elavon's proposition to all businesses is our ability to fund next day for all transactions. For the hospitality sector – where the majority of business is done over the weekend, all funds from these transactions are in the bank account on Monday morning. Not having to have large amounts of cash on the premises, and then having to make a lodgement on a Monday morning, is a huge advantage of card over cash. The card funds are in the bank before the cash!' And," he continues, "the trend is moving towards a cashless society. ApplePay, Samsung and Android pay, where you use your phone and thumbprints rather than pin numbers, something that is far more secure, is already taking off in the UK and will move over here. Once you have the contactless terminal, there's no job to be done to retrofit. This is certainly part of where we see the next phase for payments." As part of this next phase,
Eric says "what we're seeing is the tablet as a point of sale. We think that in the next three to four years, we'll see less of the terminal. We have a system called talech for restaurants and hotels, that holds all data in the cloud, so you can set up menus, take orders from anywhere in the restaurant, run your employee roster through it, all with the rich data analytics that you would expect from a cloud-based solution. We are seeing this used in all types of restaurants. You don't need the big cash register anymore. You can have a very slick device on site, with information held in the cloud."
The advancement of this trend for contactless and cashless is easily seen in the matter of the raise in limit of contactless transactions, from €15 to €30, and the uptake in this.
"We've seen a 500%+ year-on-year increase in people using contactless," Eric says, "Ireland is still one of the big cash-usage societies in Europe. We're at the top of the European average. There's a lot of cash still in our economy, but contactless has gone way better than we could have thought, with 1.9 million transactions a week. We are seeing more and more contactless transactions in pubs, cafes and retail, it is displacing cash. Taking cash out of the equation is good, for many reasons, including managing the black economy and the huge wastage and cost associated with cash."
"When it comes to hotels", Eric says, 'there are specific requirements for card processing, for example around check-in & check-out with pre-authorisations – secure the guest's funds for the duration of the stay. It needs to be quick, frictionless, seamless, but secure for hotels and their guests. The customer experience demands that."
"We're the exclusive processor of Amex in Ireland," Eric points out, 'We're the only player who can offer businesses one funding event and statement for all their card transactions. Customers using Amex are generally business customers, and they tend to spend more, staying in hotels and eating out. You don't want to lose that business because you can't take the card. Competition is fierce in this industry, and you don't want any barriers. Paying a bill is part of the overall experience, and if that goes badly, it affects everything."
As for the ever-thorny matter of Brexit, Sharon says, "It will come down to value for money. We would get a lot of UK visitors, Northern Ireland visitors, and we will have to start offering better value to keep those people coming. Can we replace the business? I think we can, if we can offer value for money. Dublin has a huge amount to offer, but it has to be value driven. If we're not value driven, we'll lose our niche." Let's face it, the more efficient a business, the better able it is to compete on value, and Elavon is a vital part of this.
Visit www.elavon.ie for more information about Elavon payment solutions