Government Committee Backs High Minimum Pricing on Alcohol
Published on Jun 22 2015 5:09 PM in Drinks tagged: Featured Post / Alcohol / minimum pricing / Leo Varadkar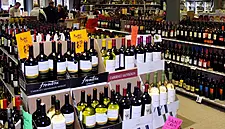 The Oireachtas health committee has urged the Government to set the toughest measures on alcohol pricing.
The Public Health (Alcohol) Bill, drafted in February this year, is due to go before the Dáil soon, and the committee's report released today recommends that the highest unit price of €1.10 is enacted. Currently the bill proposes a unit price of between 90 cents and €1.10.
If the minimum pricing was set to this upper rate it would mean that a typical bottle of wine would cost no less than €10 in off-licences.
The report also recommends that calorie information be placed on bottles as well as health information similar to those already on cigarette packets.
Jay Buttimer, chairman for the committee said said that minimum pricing is a step towards reducing alcohol-related disease in Ireland.
"This is a practical, and workable way of reducing the levels of alcohol consumed by people at risk," said Buttimer. "It is needed to deal with the harmful impact of drinking on society, on suicide levels, on levels of hospitalization."
On average, an Irish person consumes 11 litres of pure alcohol per annum, which Health Minister Leo Varadkar wants to reduce to the OECD-average of 9.1 litres by 2020.