400 New Bedrooms Planned For Revamped Metropole Hotel in Cork
Published on Jul 24 2017 12:29 PM in Hotel tagged: Featured Post / Cork / Metropole Hotel / St Patrick's Quay / Hotel M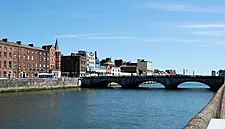 The proposed €50 million refurbishment of Cork's Metropole hotel would include over 400 new bedrooms, according to details released by the company looking for the planning green light for the development.
The development will include the extension and refurbishment of the current hotel and the construction of a three-star, seven-storey sister hotel to be titled The M, located at the adjacent former garage site on St Patrick's Quay, reports the Irish Examiner.
The M is expected to house 228 of the 400 new rooms.
The plans propose that the two hotels would be joined by pedestrian link bridges across Harley Street, at first and sixth-floor levels, with the main hotel frontage remaining on MacCurtain Street.
However, Trigon Hotels is seeking permission to demolish existing elements to the rear which currently back onto St Patrick's Quay.
The report goes on to explain that, 'On the site of the demolished buildings, it is planned to erect a seven-storey structure with 140 bedrooms, bar and restaurant facilities, and four ground-floor retail/café units, all over 92 parking spaces in two basement levels. The applicants also propose to renovate and refurbish existing hotel accommodation with 43 bedroom suites and meeting rooms'.