€250m In Hotel Sales Predicted This Year After Slow First Six Months
Published on Jul 3 2017 10:29 AM in Hotel tagged: Featured Post / Trending Post / CBRE / Athlone Springs Hotel / Mount Wolesley / Hillgrove Hotel / Knightsbrook Hotel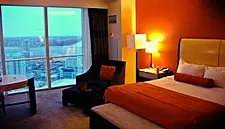 The latest bi-monthly report from CBRE has highlighted that transactional activity in the hotel sector in the first half of 2017 is down year-on year, valued at just €75 million. CBRE reported that...
The latest bi-monthly report from CBRE has highlighted that transactional activity in the hotel sector in the first half of 2017 is down year-on year, valued at just €75 million.
CBRE reported that the relatively low volume of transactions signed in the first six months is largely attributable to the slow start to the year and the scarcity of large-scale assets being released for sale compared to last year.
It added that demand for prime hotel assets remains strong, fuelled by strong performance indicators, particularly in Dublin where hotel availability remains 'seriously compromised'.
However, it said that with 'considerable hotel development activity now underway in the capital, this situation will ultimately improve'.
According to CBRE research, there are 14 hotel projects under construction in the capital at the mid-year point, which between them will add more than 1700 new hotel rooms. Ten of the 14 projects are new hotels, while four are extensions.
Several other hotel projects are expected to go on site in the coming months once development funding is obtained or forward-funding transactions negotiated, while new planning applications for extension and refurbishment projects continue to be lodged, reports CBRE.
There has also been an increase in planning activity outside of Dublin in recent months.
In Limerick, an application has been lodged for a 107-bed extension to the Castletroy Park Hotel. Meanwhile, in Cork, planning has been lodged for a mixed-use scheme, which will include a 193-bed hotel at Sullivan's Quay, while planning is due to be lodged shortly for a refurbishment programme and a 140-bed extension at the Metropole Hotel in Cork city centre.
Transactions announced recently include:
- The sale of the Mount Wolesley Hotel in Carlow, which was offered for sale guiding €14.25
million.
- The sale of the Hillgrove Hotel in Monaghan.
- The sale of Sweeney's on Dame Street in Dublin city centre for in excess of €3.5 million.
In addition to the €75 million of hotel sales completed in the Irish market during H1 2017, a number of properties that were offered for sale over recent months - Connemara Coast Hotel in Galway; The Knightsbrook Hotel in Trim, Co. Meath and the Athlone Springs Hotel in Athlone, Co. Westmeath - are now at an advanced stage of negotiation and expected to reach conclusion soon.
According to the CBRE report, in total, there is currently up to €60 million of transactions under active negotiation. When combined with transaction volumes in the first half of the year and hotels that are due to be launched for sale over the coming months, it now looks likely that up to €250 million will be transacted in the Irish hotel sector during 2017.
PUBS
CBRE reports that demand for Dublin pubs remains particularly strong with transactional activity hampered only by a scarcity of opportunities to purchase.
Its research shows that only four Dublin pubs traded in the first six months of 2017, totalling just under €5 million between them. However, there are a further 14 pubs at contract signed or sale agreed stage with a combined capital value in the region of €18.5 million.
Transactions agreed recently include the sale of Boland's in Stillorgan, Co. Dublin; the nearby Sandyford House and JJ Smyth's on Aungier Street in Dublin 2.
Meanwhile, an agreement to lease The Vineyard premises in Blanchardstown, Dublin 15 was recently agreed.
Dublin pubs currently on the market include:
- Nash's, Patrick Street, Dublin 8; which is
guiding €1.4 million;
- Fern & Co pub & restaurant in Stepaside, Dublin
18, which is guiding €1.3 million;
- Kilmardinny Inn, Santry, Dublin 9, which is
guiding €1.25 million