Hotel Sales Breaks €800m Mark in 2016 As 66 Properties Change Hands
Published on Jan 17 2017 11:38 AM in Pub/Bar/Nightclub tagged: Featured Post / Dublin / CBRE / hotels / hotel market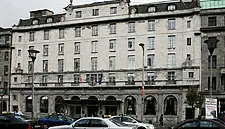 Commercial property specialists CBRE today (17 January) released their 'Outlook 2017' annual report containing its final year figures for transactional activity in the Irish hotel market in 2016 and their predictions for the sector in the year ahead.
CBRE reports that some 66 hotel sales concluded in the Irish market in 2016, totalling over €805 million between them. This marks the third consecutive year in which more than 60 hotel transactions were completed in the Irish market in the calendar year.
According to CBRE, 'some slowdown in transactional activity is expected in the hotel sector in 2017 following two record years', while some Dublin hoteliers may decide to capitalise on the demand for hotels in the capital and bring hotels to the market in advance of an increase in new supply coming on stream from 2017 onwards.
The report adds that an increase in forward-funding transactions is expected in the hotel sector this year.
Meanwhile, some 30 Dublin pubs were sold in 2016, totalling more than €43 million between them.
'This was a lower volume of pub sales than anticipated as improved trading conditions made some vendors reluctant to sell', said the report. The average Dublin pub price in 2016 was €1.44 million and this is expected to rise further this year.
CBRE predicts up to 40 pubs are expected to change hands in Dublin in 2017, adding that a limited supply in the city centre is expected to drive demand for suburban pubs over the next 12 months.