Tapping The Market
Published on Sep 18 2015 1:21 PM in Pub/Bar/Nightclub tagged: Featured Post / Dublin / Feature Post / pub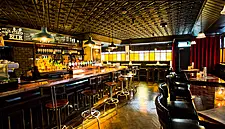 TapHouse has become a popular spot in the bustling village of Ranelagh since arriving on the scene in 2013. John Golden speaks to owner David Kelly and manger Donal French about bringing the Irish pub...
TapHouse has become a popular spot in the bustling village of Ranelagh since arriving on the scene in 2013. John Golden speaks to owner David Kelly and manger Donal French about bringing the Irish pub to the Americans, and bringing an American inspired pub to Ireland.
When TapHouse opened its doors just over two years ago it created a buzz in a pub sector that, at the time, was seeing more places close down than start up. Russell's had, like many other businesses in Ranelagh, succumbed to entropy and looked out of place in a village that has transformed itself over the last few years into one of Dublin's trendiest spots.
Rumours and conjecture were rife about what exactly the successor of the much loved but ultimately dated Russell's was all about. "Is it a craft beer place? A tapas restaurant? It's an American-style joint, isn't it?" The short answer is: "Yes, it's all those things." Perhaps gastropub would be more fitting, but the food in TapHouse is predominately small plates (sliders, prawns, wings, etc.) that are designed to complement the vast range of beers and cocktails available.
Craft beers dominate, glancing at the taps you can see the ubiquitous Guinness and Heineken brands, but after that it becomes a little more obscure to the amateur eye. Microbrews such as Trouble Brewing from Co. Kildare, Metalman (Waterford), 8 Degrees (Cork), Rascal's (Dublin), among other seasonal offerings make up the rest of the draught options.
Although there are a myriad of imported beers to select from in bottles, the draught choices are all (Heineken excepted) Irish made. This is part of the ethos of keeping things "Irish and local", says manager Donal French.
"With the explosion of craft beers my policy is to keep only Irish beers on tap, with the exception of Heineken. Ireland, like the US, has exploded with local and small breweries prodcuing exceptional beer and each one has not only a story behind it that everyone in Ireland can relate to, but also an extreme amount of passion and pride in the product.  Keeping it local on tap and Irish just makes sense to me. It's all about being able to relate to each location and beer and being proud to say it's from just down the road or around the corner. When I travel I want to drink and eat what's local and experience that culture and produce."
As for TapHouse's American connection, that all stems from the city of Charlotte in North Carolina, where in 1997 Irishmen and childhood friends Ciaran Sheehan and David Kelly opened the first Rí Rá pub. The Rí Rá brand would expand to nine locations in the US, in places such as Atlantic City, New Jersey; Portland, Maine; Atlanta, Georgia and Las Vegas, Nevada.
Some 16 years later in 2013, David, like so many of the diaspora that year, came back to Ireland. David, managing director of Rí Rá and a former brand manager for Guinness and Diageo, spoke to Hospitality Ireland about the inspiration behind Rí Rá. "Obviously there's Irish pubs all over the world – especially in the States, but what we wanted to do was create a real Irish pub," said David, who travels back and forth between Ireland and the US.
"The idea was: imagine transporting a pub from Baggot Street or from some corner of a town in Ireland and lifting it up, beaming it over and dropping it in a busy American street in Charlotte, North Carolina and when you walk through the door you go into a different atmosphere and different place and time."
CULTURAL EXCHANGE
The so-called 'Irish pub' is omnipresent in America, particularly on the east coast. But while the obligatory cultural checkboxes are usually ticked – Irish flag, Guinness on draught, ceol agus craic written on the walls – they typically fall short in delivering the real experience of the Irish pub. For David, that was the challenge.
"So that was the idea, and we went to great lengths to achieve that. From the first pub and still to this day the pubs are built entirely from salvage in Ireland. For example, the Las Vegas pub has parquet floors that were originally in the engineer's office in the Harland and Wolff yard.
In Charlotte, the bar is from the mess hall in the Phoenix Park Barracks which closed about 200 years ago and sat in a garage for a long time." As well as transporting the wood and interiors from Ireland, they also bring the all important ingredients, Irish people. A cultural exchange programme allows Rí Rá to bring Irish hospitality workers to the US to work and train in the bars. "Our goal is to keep it real, a real Irish experience."
While David and Ciaran have managed to establish a recognisable brand for Rí Rá in the US, they have been careful not to create a homogeneous 'chain' that so many American businesses become after a run of success. Each pub has a different look and feel according to the city it's in.
"We've taken on very challenging spaces, for example we are in the oldest bank building in the US which is in Portsmouth, New Hampshire. That building was a bank in 1760 something or other - it's a really old building - and it's got a magnificent huge glass dome that's the feel of New Hampshire. This is just an example, we try to give the pubs a local expression of Rí Rá."
This local expression extends across all Rí Rá has to offer. While Guinness on draught is a mainstay, each pub, just like TapHouse, offers beer from local breweries, music and food according to locals' taste. "Rí Rá in Portland, Maine is on a wooden dock that's surrounded on three sides by water. So in there it's all about fresh seafood and of course the local Maine lobster, which is different from the other pubs.
Each pub is a unique experience informed by its locality while maintaining that core equity of a real Irish experience." Timing It Right It took David and Ciaran 16 years to finally bring the pub "home", although it was always their intention to do so, it was just a case of timing. "We looked at Ireland over the years and while it appealed to us, it was a challenging market in terms of occupancy costs."
The Ranelagh pub, when it became available, was very appealing for the duo as it's close to where they grew up. In fact, David's granmother lived ther until she emigrated to the US at the age of 75. "So the site was attractive and the timing was right, plus there was something we thought we could do that was a little different in the Irish market compared to what other pubs are doing, and we would be trend-forward."
The plan that TapHouse would be more creative and new presented a challenge for them, as the Rí Rá equity of the historical and traditional Irish pub that has served them so well was not exactly what they wanted to create in Ranelagh. David and Ciaran wanted to create a more modern offering that was in fitting with the a bourgeoning south Dublin scene.
The challenge, it appears, was met. TapHouse has become a busy and reputable place in Ranelagh once more, catering to craft beer aficionados, cool 20-somethings and the older "regulars" alike.
In keeping with the original idea of being trend-forward, TapHouse offers some innovations that are slowly but surely growing in popularity in the pub and the sector as a whole.
MORE TO COME
The pub will soon be rolling out drinks menus on tablets, testing the innovative (if somewhat controversial) 'digital dining' trend that's changing the way customer service is looked at.
Manager Donal explains that the service has been trialled in some Rí Rá pubs and its aim is to bring more interaction and augment the customer experience, rather than expedite the process. Growlers – takeaway jugs that a customer can fill with craft beer to take home – are available for €20 and refilled for €14. These large glass bottles can be seen as a decoration all around the pub. Growlers would be familiar to an American or Canadian customer, but are still a relatively new concept to the Irish market.
"I think it will become more and more popular as people are exploring more with taste and freshness of beer," says Donal. "You can't get a better pint than from the keg in my opinion, so serving a craft beer straight from the keg into a growler and storing in your fridge for a barbecue or house party is perfect."
Also, the 400ml "standard pour" served in a stemmed glass (northern Australians might refer to it as a "schooner") is the USP and is advertised around the pub as "perfect for keeping you beer cool, carbonated and fresh to the last drop".
What has David learned since first opening the pub? Being from a marketing background, he sees TapHouse as a microcosm of changing consumer habits.
"Personally, during the TapHouse journey, I've learned a lot about emerging consumer trends. When I started working for Guinness as a brand manager more than 20 years ago consumers here and in the US were very brand loyal. Now, I think they're more experience or product loyal, they're not as much interested in the brand. Consumers are now more interested in the journey than the destination, and the marketer has to adress that. This idea of a journey is present in TapHouse: a drinks list with over 100 cocktails, wines and beers (subcategorised into lagers, ales, wheatbeers, etc) is on hand when you arrive.
"A customer can try any beer they want before they buy, and staff are happy to give a description of the beer's flavours and history. This variation and customer experience is almost at odds with what the Rí Rá pub in Charlotte was like in 1997, explains David.
"We had six draught beers and six bottle beers when we opened! The magic dust was import and our big claim to fame was no 'domestic'; so no draught Budweiser and so on. Now in a typical Rí Rá we have countless beers and literally hundreds of whiskeys. Going through the brand development stage TapHouse helped to crystalise my understanding of current onsumer trends both in Ireland and the US." Now that TapHouse is established, are there any plans for expansion?
Much like before for David and Ciaran, it's a case of finding a suitable home in a market that appears to be picking up.
"We were actively involved in bidding for one or two pubs that didn't go our way. We'd love to expand in Ireland but with a different spin on the concept. If we're successful in getting another location it would be to do something different again."
So while they're won't be a 'TapHouse 2' opening in a town near you, keep an eye out for something similar, as Rí Rá continues to make noise in Ireland and abroad.